Palletizing equipment
Robot Palletizer A series
Palletizing robots
Robot Palletizer A series stands behind Okura palletizing expertise over decades. Okura can help customers improve their end of production line.
Features
Higher Payload

The handling weight of the Ai1800 robot is 160kg, whilst the Ai700 can handle up to 160kg simply by adding some counter weights. The Ai1800-W is able to handle up to 350kg of payload.
Large Operation Range

Having 360 degrees of rotation angle (R-axis), robot can accommodate 6 pallets in its operation range.
R-axis Hollow Gear Reducer

With new design in robot cable accrossing through hollow shaft of R-axis reducer, replacement of inner harness becomes a lot easier.
Due to the larger size of hollow shaft, ball bearing for R-axis table is not used and it results in less maintenance.
Increased T-axis Inertia

The maximum T-axis inertia is increased from 30kg㎡ to 50kg㎡.
Harting Connector

More industrial and easy to connect Harting connectors are used with the Ai-series.
Grease Leak Chamber for D-axis and O-axis

The chamber prevents grease penetration into servo motor.
Load Variation Detection Function (LVD)

One of the features of the Okura controller is the Load Variation Function (LVD). It reduces the risk of damage to handling item and /or robot when the robot collides with peripherals, etc.
Controller
The Gen VII Controller Is Our Most Advanced Controller Ever!
The Okura Palletizing Software OXPA is integrated into the HMI of the controller. All screens for installation, operation and maintenance are user-friendly.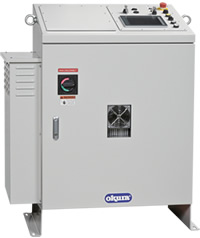 Built – in OXPA
Stacking programs can be created and modified directly on the controller.

New stacking programs can be created or existing stacking programs can be edited.
The stacking positions, product dimensions, number of layers, change of the stacking pattern, etc. can be modified directly on the touch screen of the controller.
Powerful Options
Internal PLC

The internal PLC of our robot controller has a range of 120 inputs and 96 outputs (3 I/O Boards) and has a maximum capacity of 4500 programming lines. It can be used to control peripheral equipment, exchange data with external control system, etc.
Control for additional axis

2 additional axes can be controlled. The optional axes can be used as C-axis (hand) or External peripheral axis (elevator, track, lifter table, shuttle etc.).
Easy to Connect
Exchange the data via USB

2 USB ports are located on the control panel. 1 port is for communication with a laptop and the other for data exchange via USB memory stick.

Back up and Update OS program.
The program can be uploaded from laptop to controller by USB cable using this port.
Via this USB connection, stacking programs can be stored to and from USB memory, Memory backup and restore functions can be done, and system software can be transferred for upgrading the robot.
Connection to Field Bus
Field Buses such as Profibus DP, Profinet and Ethernet IP can be used.

Using this field bus, you can exchange data with external control system such as external PLC, Scada systems etc.
Safe and Green Robot
CE, UL and RoHS compliant

The new Ai1800, Ai1800-W and Ai700 robots and controllers all meet RoHS, CE and UL compliance. CE robots follow the Machinery Directive and the EMC Directive. Approved by TUV.
Specifications
Palletizing software
New OXPA-QmV Palletizing Software
Offline Teaching
The stacking programs can be downloaded to the controller from remote location.
User-friendly
3D drawings for user friendly and visual software.
Windows based standard items are used (such as pull down lists, Pop up windows, etc.) Clear Icons on buttons and selectors.
Communication between laptop and controller via USB cable or Ethernet, providing a faster upload and download.
More Features
Backup and restore stacking programs, download and upload system files.
Password protection for operator, production manager and system administrator.
Can create special patterns manually and register them. New pattern creator built in to OXPA-QmV.

OXPA PLC Software
PLC as a Standard Feature
Okura robot palletizer control panels are supplied with a built-in PLC as a standard feature.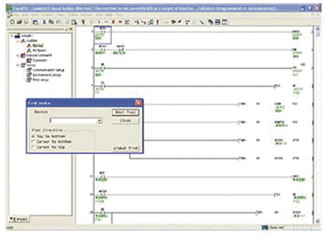 More Features
The maximum of programming lines is extended up to 4500 lines. PLC program can be created for larger installations.
The communication words between internal PLC and POD screen are extended and free configurable.
The communication words and bits to an external network (Profibus, Profinet, Ethernet IP) are extended (up to 96 words and 512 bits) and are now free configurable.
The download area has been extended up to 2999 random used datawords.
Faster PLC processing speed.
ALC (Area Limit Control)
Gen VII Controller Has Standard ALC (Area Limit Control) Built-in for CE/UL Controllers
With a new ALC configtool software all robot parameters can be configured and it is possible to predefine the overall robot operation area and separate control areas can be set up to 8. In conjunction with safety devices (such as light-guards, door-switches, buttons and pull strings) the monitoring of each zone can be activated or deactivated. With dual encoders, the device monitors the actual position of the robot at each moment. The ALC system has been proven and approved by TUV for CE certification.
Compact Robot Installation Space.
After configuration, the data from the configuration software can be imported into the Oxpa-Qm program to check if all positions from all stacking programs are within the predefined robot operation area. If they are all OK, then the guard fencing can be moved closer to the robot to create a compact robot installation.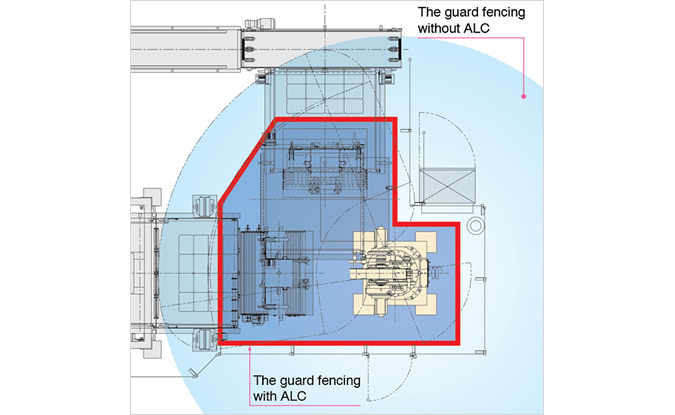 Predefined Robot Zones in the Operation Area.
This example shows 3 predefined robot zone areas (pallet L1, pickup, pallet L2). When the robot has completed the pallet on L1 and moved out of this zone area, then this zone becomes deactivated and the operator can go into this zone to discharge the full-loaded pallet with mechanical stopper (only for JIS Version). At the same time the robot can continue palletizing on active zone pallet L2. Lightguard systems prevent the operator from going into the activated robot zones. Other possible examples to use predefined zones are "fill up pallet stack" or "fill up slipsheet stack" while the robot is operating.

Standard hand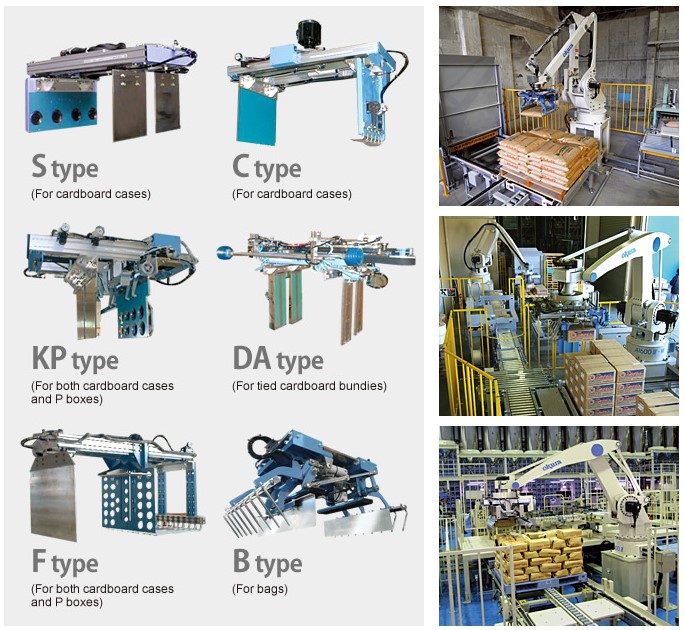 Palletizing equipment Navigation