Sorting equipment
Disk Sorter
Economy-type sorting system
Rotating disks sort products gently on this simple and inexpensive sorter.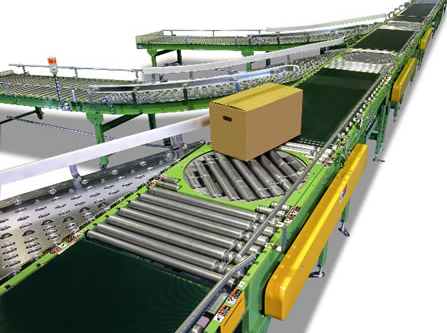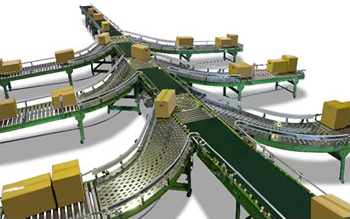 Features
Outstanding expandability

Thanks to the Disk Sorter's distributed control mechanism, it is easy to add or remove sorting openings.

Low cost

The Disk Sorter uses a simple mechanism and standard conveyors to deliver a lower-cost solution.

Gentle sorting

A turntable mechanism sorts products gently.

Capacity of 3,000 items per hour

The Disk Sorter is ideal for use in applications requiring a sorting capacity of 3,000 items or less per hour.

Support for two-sided sorting

The Disk Sorter supports sorting with up to 20 branches for single-sided operation or up to 40 branches for two-sided operation.
Specifications
Sorting method
Turntable method
Turntable dimensions
φ450mm
φ600mm
Sorting capacity
Max. 3,000 cases/hr.
Max. 2,700 cases/hr.

Speed

MAX.70m/min
Sorting direction
Two-sided sorting, single-sided sorting

Width

500mm
630mm
Belt width
450mm
580mm
Branch device carrier rollers
Diameter
φ48.6mm
Pitch
65mm (inside turntable, 62.5mm)
65mm
Maximum number of sorting chutes
Single-sided branching: Max. 20 chutes
Two-sided branching: Max. 40 chutes
Minimum chute pitch
1,950mm
2,100mm
Transportable products
Dimensions
150~400(W)
× 200~700(L)
×50~600(H)mm
150~600(W)
× 200~700(L)
×50~600(H)mm
Weight
0.5~30㎏
*Sorting capacity varies with product dimensions, transport pitch, speed, and other conditions.
*Transport testing may be necessary depending on the product center of gravity, shape, and other properties. Please contact Okura for more information.