Okura distribution solutions
Basic approach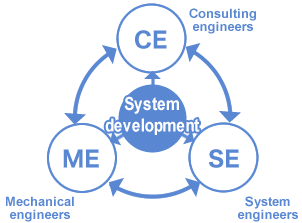 In engineering information and product flows, an advanced level of flexibility is required in order to meet the requirements of different customers. Okura Yusoki is founded on this approach, and in building optimal distribution systems, we give flexibility top priority.
In developing systems, an engineering team including consulting engineers who are intimately familiar with the industry in question, system engineers who are experts in system planning, and mechanical engineers who are hardware professionals works with the customer to consider all options, from the launch of the project through after-sales service. In this way, we create the most robust possible distribution solutions.
Consulting engineering

Since distribution consulting engineers with extensive expertise and experience in distribution operations in each industry work with the customer to study, analyze, and examine options, ranging from analysis of the status quo to system operation, we are able to plan and implement optimal distribution systems for customers.
System engineering

The system engineering process consists of designing a system to meet customer needs in progressive stages, proposing and examining options, and crafting a more specific system as the design process moves from a general vision to an actual, working system, all based on a review of the purpose of the new system and establishment of a basic plan.
Mechanical engineering

Once the system design process is complete, we develop a detailed design by selecting and laying out optimal equipment, build the system, conduct trial operations, and provide training on system operation. Our engineering services extend to field service once the system is operational.
System development procedure
Okura Yusoki's engineers pursue a carefully orchestrated series of steps until the system is operational.