Palletizing equipment
Multi-Lane Diverter
Palletizer Peripheral Equipment
Diverting cases at a high speed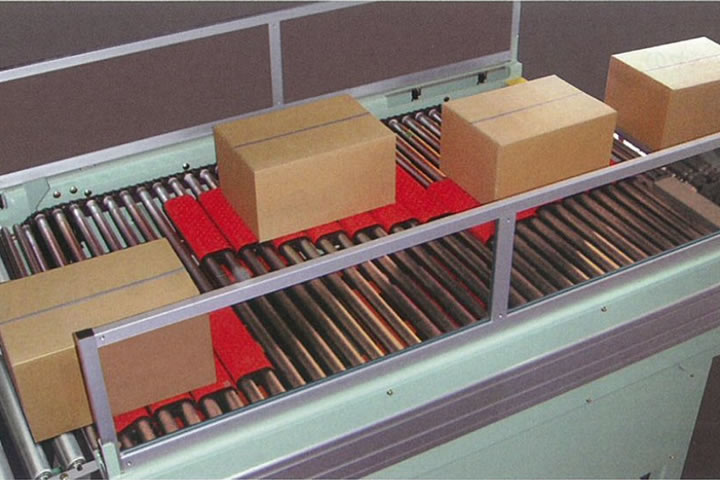 Features
Diverting cases gently


Slats using urethane do not damage cases.

High capacity


Max. 75 cases/min with diverting cases stably.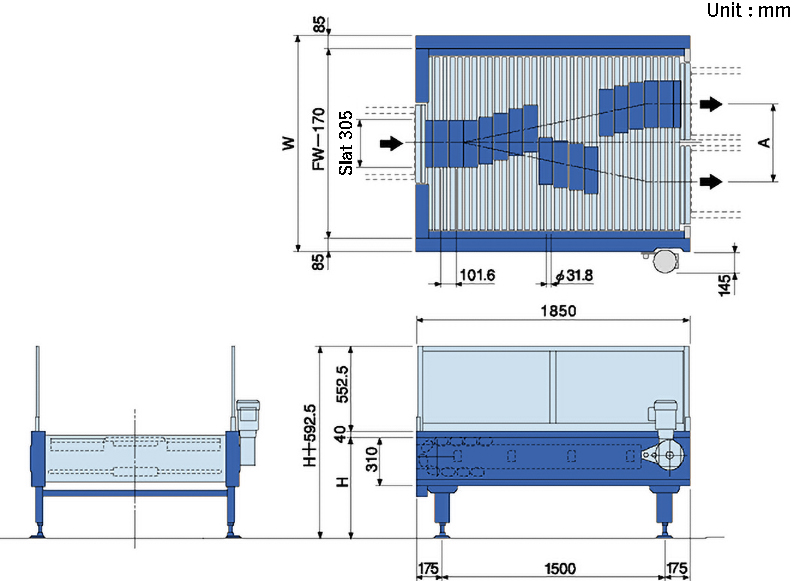 Specifications
Width (mm)
1400
1600
Diverting pitch A
500, 550
600, 650
Length (mm)
1850
Height (mm)

MIN. 500

Transported product size (mm)
MAX

500W×500L

MIN
180W×180L
Shape
Carton cases/Shrinkage wrapped/Plastic containers
Transported product size (mm)
MAX. 30kg
No. of diverting points
2 diverting points
Running direction
Forwarding only
Transport speed
MAX.40m/min(Up to max. 60m/min with Max. motor output of 1.5kW)
Capacity
Subject to product dimensions
Ex 1)400L×270W Long side leading・60 cases/h at speed 40m/min
Ex 2)400L×270W short side leading・75 caess/h at 40m/min
Motor output
0.75kW
Slat pitch
101.6
Slat dimenions
95W×305L×51H
Power supply
AC200V(two phase)
Air source
Pressure supplied:0.5MPa Capacity:7L/min(ANR)
*Handling capacity is subject to palletizing patterns, product dimensions, etc.
Palletizing equipment Navigation