Palletizing equipment
Truck loaders
High capacity truck loading equipment
High speed・Handling a lot of loaded pallets smoothly and speedily to reduce operational time
In place of a fork truck, Truck Loader can load a lot of loaded pallets onto a truck within a short period of time.
Okura offers various kinds of truck loading solutions.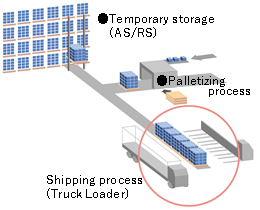 Compact-sized Truck Loader
Multipale loaded pallets can be loaded at once. Truck driver's waiting time can be reduced.
Features
High capacity
Loading two loaded pallets without gap at once. It takes approx. 12 minutes to load 16 loaded pallets onto a truck.
Keeping stacking shapes stable
Fork truck mast can tilt to keep the stacking shape stable while loading the pallet.
Minimum footspace required
Minimum footspace required as it is designed to be as compact as possible
Specifications
Palletizing equipment Navigation