Plastic Belt Conveyors Functions/Applications
Functions
① Easy cleaning
Thanks to waterproof motors, every surface of these models can be washed with water. Cleaning is made even easier by a simple design so that it drains readily and no dirt accomulate.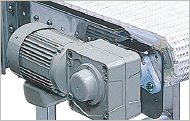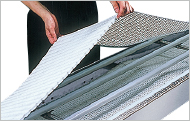 ② Zero-slip, non-wandering design
The drive shaft is directly coupled to the motor via plastic sprockets, delivering zero-slip, non-wandering performance as well as low noise levels.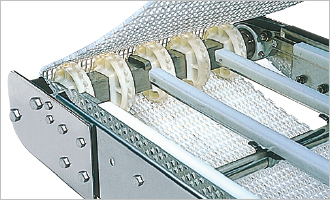 ③ Easy maintenance
Since the plastic belt features a modular design, belt replacement is by module. The process is simple and requires no special tools. Additionally, the direct-drive design eliminates the need for belt adjustment and lubrication.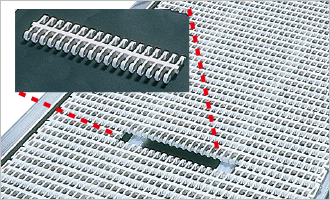 ④ Excellent safety
Models incorporate various safety features, including a drive system that does not use a chain and a frame with cut edges facing inward.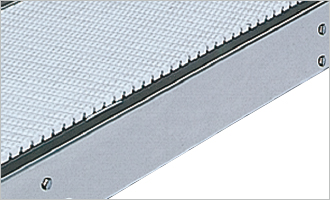 Applications
Bread plant

A JPL model being used in a cooling process
Imported vegetable distribution center

A JPL model with a flat-top belt
Food plant

A JQL model being used in a straining process
Sandwich plant

By performing cutting work on a JQL model, work efficiency is dramatically improved.