Belcon Mini Functions/Applications
Functions
① More robust environmental features
Belcon Mini delivers more robust energy-saving and environmental features by using a high-efficiency motor and RoHS-compliant parts.
High-efficiency brushless motor

Belcon Mini uses a brushless motor with 25% lower power consumption than gearbox-equipped models (according to an Okura comparison).
RoHS-compliant parts

All parts comply with the RoHS Directive for greater environmental friendliness.
Large-diameter stainless steel pulleys

Belcon Mini uses large-diameter snub and takeup pulleys to lower the belt's bending resistance and save energy.
② Standard high-quality, multifunctional belt
Belcon Mini uses multifunctional belts that are ideal for transporting small objects, allowing a single system to accommodate a variety of products and transport conditions.

Whereas the typical belt that comes standard with a conveyor system only offers three functions, for example compatibility with food products and low-noise operation, the Belcon Mini III's multifunctional belt delivers eightfold functionality.
③ Simple maintenance
We gave shape to feedback indicating customers want simpler maintenance.
Transparent cover for drive mechanism

A transparent cover lets you check for chain looseness and belt tension at a glance. There is no need to remove the cover when lubricating the drive mechanism, ensuring safety while keeping maintenance simple.
Check belt tension at a glance

Graduations engraved on the transparent cover let you check belt tension at a glance.
Easier adjustment of belt tracking

Graduated conveyor frames help you check the belt tracking position at a glance.
Transparent cover for drive mechanism

Tracking adjustment can be performed from beside the end of the belt.
Easy removal of end pulleys

Even when conveyors are placed in series (end to end), the end pulley can be removed upward.
④ More robust safety features
Belcon Mini features a safe design that is engineered to keep objects from becoming caught in rotating pulleys or the belt tracking area.
More robust safety features at the end of and underneath the conveyor

Rotating pulleys fit inside the width of the belt.

The new design is engineered to keep objects from becoming caught from underneath the conveyor.
⑤ Double-grooved frame for easy mounting
In addition to allowing attachment of a variety of parts, the double-grooved design can accommodate M6 nuts (Type 1) anywhere on the side.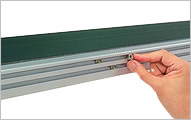 M6 nuts can be inserted anywhere on the side of the frame.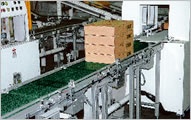 A variety of attachments such as guides and photoelectric switches can be mounted.
⑥ New slim-type models
The Belcon Mini series now includes new slim-type models whose drive units sit flush underneath the conveyor with no protruding parts. The design is extremely useful when mounting the conveyor on another device or machine.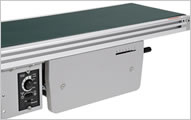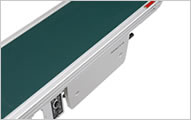 Applications
Prepared food plant

A spiral conveyor more than 200 m long made up of Belcon Mini units
Somen noodle plant

A Belcon Mini conveyor installed after a metal testing process
Crab processing plant

A DMH unit being used to transport products between processes using various machinery and devices such as packaging equipment and a metal detection system
Dried rice seasoning plant

Products discharged from a filling machine are transferred to a packaging room by DMH conveyors.
Vegetable sorting area

DMG conveyors being used to transport vegetables wrapped in plastic film to workers for packing