Pallet conveyor (Aluminum chain conveyors)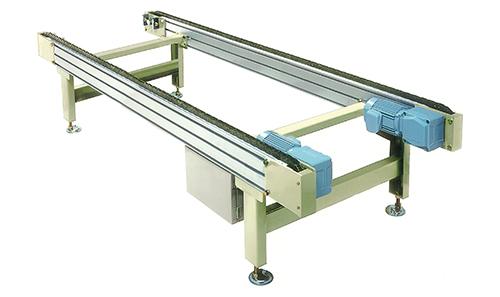 YPC
Aluminum chain conveyors
These models provide reliable pallet transport with twin direct drive units.
These chain conveyors designed to transport pallets feature lightweight, highly rigid aluminum frames. Low-maintenance yet providing a powerful solution for heavy-duty transport, they are ideal for use in shipping and receiving areas at factories, distribution centers, and other facilities.


Specifications
Model
YPC50
YPC60
YPC80
Chain
#50 flat chain
#60 flat chain
#80 flat chain
Width (mm)
(Chain center: 550 to 1,200) + 52
(Chain center: 600 to 1,200) + 62
Length (mm)
850〜8,200
950〜6,200
Minimum height (mm)
400 
Frame (mm)
Aluminum, 52(W) x 120(H)
Aluminum, 62(W) x 168(H)
Speed (50/60 Hz)
5/6 8/10 15/18 21/25 30/36m/min
Motor output *1
90W×2
0.4kW×2 0.75kW×2
Power supply
200V AC (3-phase)
Maximum transfer weight
200kg
1,100kg
1,500kg
Premium efficiency motors are adapted for 0.75kW.
Chain conveyor precautions
If transporting heavy pallets or pallets of different sizes, it is recommended to install a third chain or a series of intermediate free rollers.
It is recommended to use chain-driven rollers or free rollers at forklift loading and unloading positions.
If moving pallets at high speeds, it is recommended to install an inverter to prevent load shifting.
Use of special pallet materials or special shapes on the bottom of pallets may impact specifications. Please contact Okura's Sales Department for more information.
Magnet switches, thermal units, and inverters can be installed in the MS box.
Standard drawings