Steel-made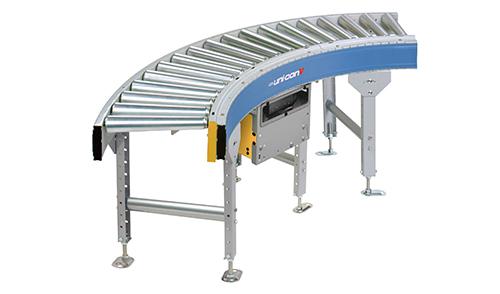 VCC(R900 curve)/VCCY(30゚ Branch)
Chain-driven straight type
Curve conveyor using the chains to drive the rollers. R900.
Specifications
*Colored text is semi-standard.
Model

VCC(R900 Curve) VCCY(30°Branch)
Inner radius R
900
RW Roller width (mm)

305

390
490
620
690
RW1 Effective roller width (mm)

274

359
459
589
659
FW Inner frame width(mm)

315

400
500
630
700
W External frame width(mm)

375

460
560
690
760
Roller pitch (mm)
Equivalent to 100, Equivalent to 75
Curve angle
VCC:90°、90°+Straight、60°+Straight VCCY:30°Branch
Minimum height (mm)
400
Frame (mm)
130×30×11.5×t2.3
Carrier rollers
Diamter of inner rollers φ42.7 Plastic tapered rollers with sprockets(#40×8T)

with a steel sprocket

Chain
#40 roller chain
Speed (50/60 Hz) *1
15/18 20/24 30/36 m/min
Motor output
0.2kW 0.4kW
Power supply
200V AC (3-phase)
Speed figures represent nominal speeds. For more information, please contact Okura's Sales Department.
Peridodical lubrication is required as the standard plastic sprokets do not come with bearings. Standard plastic sprokets and steel ones are available with bearings at option.
We can manufacture systems with non-standard specifications. Please contact Okura for more information.
Standard drawings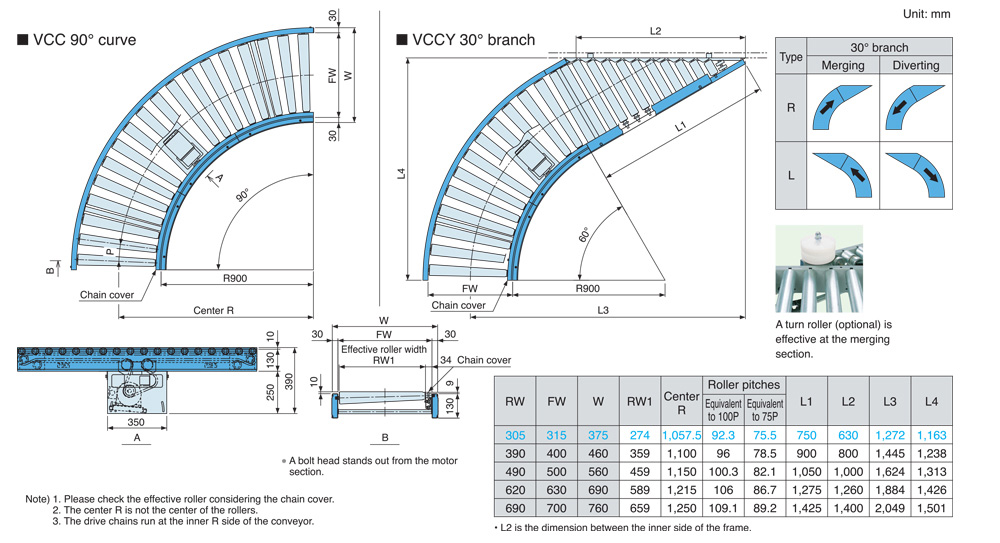 Maximum length of straight section VCC(Curve + Straight)

About merging and diverting of VCCY